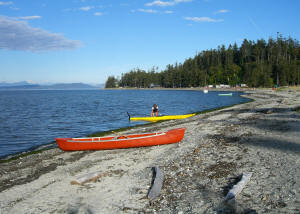 Mount Washington – skiing, snowboarding, hiking, mountain biking, tours – 30 min.
Strathcona Provincial Park – largest Vancouver Island park!
Comox town – sailing, kayaking, fishing, beach combing, HMCS Quadra
9 golf courses including Comox Golf Club, Crown Isle Golf Resort, Glacier Greens Golf Course, Longlands Par 3 Golf Course, Mulligans Golf Centre, Pacific Playgrounds Golf Course, and Sunnydale Golf Club
Downtown Courtenay shopping, restaurants
Driftwood Mall, Wal-Mart, Best Buy and other major chain stores
Filberg Lodge and Park
Courtenay and District Museum Palaeontology
Comox Valley Sports & Aquatic Centres
Comox Valley Art Gallery
Comox Airport YQQ and CFB Air base – 15 min.
Courtenay Air Strip – 5 min.
Crown Isle's classic car museum
Powell River ferry – 6 miles
Inland Island Highway
Bus station – Laidlaw Coach Lines
New Hospital
Beer, wine, liquor stores
Beaches – Kin Beach, Air Force Beach, Kye Bay, Goose Spit
Comox Lake – boating, swimming, fishing
Puntledge River, Browns River, Oyster River, Nymph Falls – tubing, fishing, hiking
Tennis, Sand volleyball
and lots more!
In 2007 the Comox Valley was designated as a Cultural Capital of Canada – in recognition of its many special activities that promote the arts and culture in community life.
The Comox Valley comprises the main three centres of Courtenay, Comox, and Cumberland as well as the outlying areas of Fanny Bay, Oyster River, Royston, Union Bay, Merville, Black Creek, Mount Washington, Hornby Island and Denman Island.
With it's moderate climate the Comox Valley is known world-wide as one of the province's finest four seasons' playground! Where else can one take up skiing, golfing, and fishing all in the same day? Some of our overnight guests have liked the Comox Valley so much that they end up buying property here!
Nestled between the Beaufort Mountains and the Strait of Georgia, the Comox Valley is a distinctive collection of small communities, farms and forested areas located on the central east coast of Vancouver Island.
It contains an endless variety of beaches, mountains, quaint rural attractions and vibrant downtown centers. The Comox Valley is one of the most diverse recreational and cultural destinations in the world!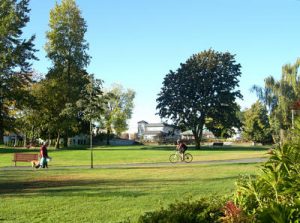 Right beside the Comox Valley Inn and Suites is the Courtenay Riverway, a walking and cycling trail that runs from Fifth Street in downtown Courtenay southward to Royston. The partly paved and partly mulched trail features views of the Courtenay River, Georgia Strait, Comox Glacier, the Beaufort and Coastal Mountain Ranges, diverse wildlife, marinas, and Millard Creek. There are public washrooms at the Park Café at the Courtenay Airpark. The Riverway passes beside the Tourism Office on Cliffe Avenue – about a pleasant mile walk from the Comox Valley Inn.
Surrounding salt and fresh waters offer great fishing opportunities. Beautiful beaches such as Goose Spit and Kye Bay provide hours of peaceful strolling, swimming and sunning fun. One of the larger lakes, Comox Lake, offers fresh water recreation such a water skiing, swimming, boating, sailing, kayaking, and fishing.
With its huge annual snow base, Mount Washington has become one of British Columbia's popular ski destinations, yet it is still family affordable. During the warmer months, Mount Washington and other nearby mountains have panoramic views of Pacific Northwest mountains and oceans.
Golfing enthusiasts will find delight at the variety that nine golf courses provide, including the championship gem Crown Isle in Courtenay.